Hosting: Our Co-location, Your Presence.
First in the Middle East and Africa to offer hosting facilities for critical content, streamline video, social networking and carriers nodes, state-of-the-art carrier hub facilities & data centers including those in the Mediterranean Landing Stations which provide easy access to all major international cables.
International Connectivity
International Connectivity : Our Footprint, Your Reach
WE Int'l Connectivity services offer dedicated point-to-point bandwidth between customer sites, carrier Points of Presence (PoPs), data centers, internet exchanges and submarine cable landing stations through WE's global network, This network extends in 60+ countries globally.
Benefits :
Diversity solutions over a range of submarine cable systems connected together in a MESH topology to meet our customers resiliency targets
Flexible and scalable bandwidth subscription, from fraction of Mb/s to Multiple 100Gs and dedicated spectrums on dark Fiber Pairs.
Our services are backed by world-class service level standards covering, service lead time, availability and mean time to restore.
24×7 service support.
IP Transit services: Access the global internet with the best quality and cost-effective solution.
WE IP Transit offers IP connectivity to the global internet with high level service performance, built by state-of-the-art resilient and robust international IP infrastructure, critical global content of the major OTTs and Content Providers is hosted in WE-Centers in addition to direct peering in most global IXs to ensure to our customers the best experience.
MPLS IP-VPN: Our network, Your needs.
WE provides an end to end service with One stop shop partners to offer MPLS IP-VPN covering over more than 200 countries to help enterprise customers to build their global network with adequate quality standards.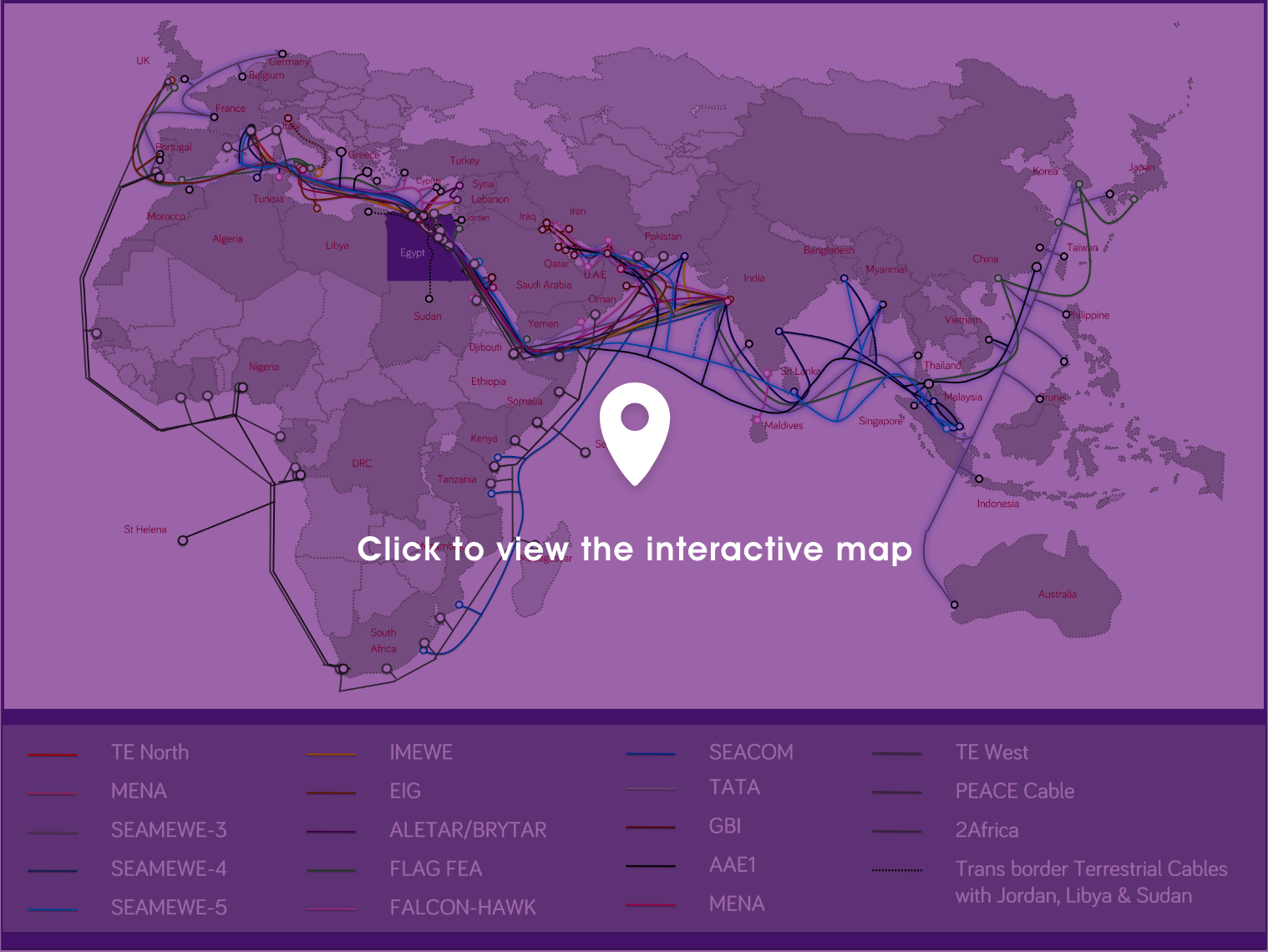 Telecom Egypt will help you extend your network and reach to global destinations. As a perfectly centralized location in the heart of the world, Egypt has always served and will always serve, as a critical international hub for global communication network connecting Africa, Asia and Europe.
Telecom Egypt has over 160 years history serving its customers in Egypt, in the region and beyond, using state of the art technology, reliable infrastructure solutions and a wide network of submarine cables.
By continuously progressing its infrastructure and connectivity, offering more resiliency, diversity and protection, Telecom Egypt connects 11 subsea cable systems from the East and 13 from the West, and is continuously investing in more new ones. Telecom Egypt now owns and operates 10 subsea landing stations (Alexandria, Abu Talat 1 and 2, Suez, Zaafarana 1 and 2, Mazara del Vallo, in Italy).
adding to them 3 new ones (Sidi Krir, Port Said and Ras Gharib). All landing stations are connected over 10 diversified terrestrial crossing routes with more to come
In Addition, Telecom Egypt owns and operates both TE North subsea cable linking Egypt to Marseille in France, with two branches to Cyprus and Algeria; and the MENA subsea cable running from Italy all the way to India, crossing 3 continents and 4 seas
On the regional level, Telecom Egypt has extended its trans-border network reach to be also connected to neighboring countries such as Sudan, Libya and Jordan
Telecom Egypt …. The digital hub.